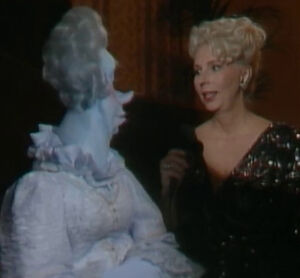 Marion Montgomery (1934-2002) was a jazz singer who guest starred on The Ghost of Faffner Hall episode "The Voice Is an Instrument," playing herself as an old friend of The Wild Impresario. She sang "Just in Time" (included on her then-recent album, 1989's Sometimes in the Night)
After beginning with dates in clubs, the Mississippi-born Montgomery was signed by Capital Records in the 1960s. By 1965, she had relocated to England and would spend the rest of her career there. In addition to albums, concerts, and radio appearances, she was a regular on Parkinson in 1971. On stage, she played Remo Sweeney in Anything Goes on the West End.
Ad blocker interference detected!
Wikia is a free-to-use site that makes money from advertising. We have a modified experience for viewers using ad blockers

Wikia is not accessible if you've made further modifications. Remove the custom ad blocker rule(s) and the page will load as expected.