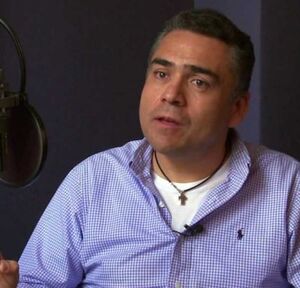 Mario Arvizu is a Mexican voice actor who dubbed Rowlf the Dog and the Newsman in Los Muppets (2011's The Muppets), Muppets 2: Los más buscados (Muppets Most Wanted), and the dub of the 2015 series.
Arvizu has dubbed Brandon Routh in Superman Returns, Peter Dinklage in three movies, Idris Elba as Heimdall in Marvel films, Julian McMahon as Doctor Doom in the Fantastic Four movies, George Harris as Kingsley Shacklebolt in the Harry Potter movies, Michael Jai White in The Dark Knight, the Thinker in Night at the Museum: Battle of the Smithsonian, Derek Jacobi in Gosford Park, and Mas Amedda in the Star Wars prequels. In animation, he voiced Skipper in Madagascar and its spinoffs, Doris the ugly stepsister in the Shrek movies, a Stabbington Brother in Tangled, Ratchet on Transformers: Prime, and Subconscious Guard Frank in Inside Out.
Arvizu's TV dub roles include François Chau as Dr. Pierre Chang on Lost and Leonard Roberts on Heroes. He reprised the role of Superman in multiple video games and often announces commercials and trailers. From 2006-2012, he was the official voice of public announcements and documentaries from the government of Mexico.
External links