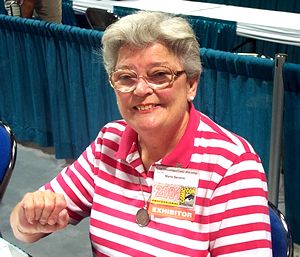 Marie Severin (b. 1929) is a comic book artist and colorist, known for being the first woman to draw for Marvel Comics. The sister of artist John Severin, she began her career as a colorist for EC comics, and freelanced for different companies before doing production work at Marvel. Gaining attention from publisher Martin Goodman, thanks to her illustration of Marvel's characters for Esquire, Severin was promoted and became a regular penciller on such titles as King Kull, Sub-Mariner, and The Cat, as well as the parody comic Crazy.
In the 1980s, for Marvel's Star imprint, Severin drew all eight issues of the Fraggle Rock comic and worked on several issues of the Muppet Babies comic, often supplying both pencils and inks, as well as cover art. She also drew the Fraggle Rock stories in the later issues of Muppet Magazine. Severin claimed to enjoy her work on the Muppet comics more than the action/superhero books.[1]
Sources
↑ Robbins, Tina. A Century of Women Cartoonists. Northampton: Kitchen Sink Press, 1993.