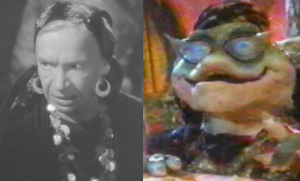 Maria Ouspenskaya (1867-1949) was a Russian actress who was a leading figure in the Moscow Art Theatre, before emigrating to the United States of America. In America, she ran a prestigious New York acting school, but played character roles in Hollywood films to support it. Described by film historian James Robert Parish as "a tiny, very wrinkled actress, with a commanding presence," Ouspenskaya re-created her stage role as the Baroness in the 1936 film Dodsworth, earning an Academy Award-nomination for Best Supporting Actress, and as Countess Pelagia in Conquest (1937), she played cards with Napoleon Bonaparte.
She received another Oscar nomination, for the wise grandmother in the 1939 film Love Affair, but cemented her place in pop culture in the 1941 horror film The Wolf Man. Ouspenskaya played Maleva, the all-knowing gypsy seer who utters the prophetic words, "Whoever is bitten by a werewolf and lives, becomes a werewolf himself." She reprised the role in the 1943 sequel Frankenstein Meets the Wolf Man. Since then, countless parodies of the werewolf legend and the classic horror movie in general have involved similar figures, modeled after Maleva. One of the more direct acknowledgements came in Mel Brooks' Dracula: Dead and Loving It, in which the wise gypsy figure, played by Anne Bancroft, was named "Madame Ouspenskaya."
References
Sources
Parish, James Robert. Hollywood Character Actors. New York: Arlington House, 1978.
External links