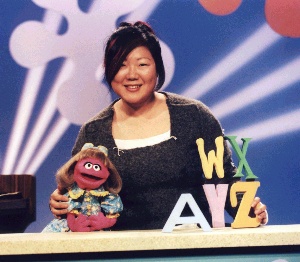 Margaret Cho (b. 1968) is a stand-up comic whose feature films include I'm the One That I Want and Notorious C.H.O. She has appeared on Sesame Street, in scenes with Big Bird and Prairie Dawn. (EKA: Episode 3897)
Cho described her experience working with Big Bird in an interview with Slant Magazine in 2002:
"

It's weird because he talks from his chest because it's actually a man inside. And I couldn't believe there was a man inside so I kept looking up at his face when he was talking. It's some old hippie dude with a total Prince Valiant haircut and he's been Big Bird for like 30 years. It's really cool and he talks when he's out of his suit and he sounds just like Big Bird.[1]

"
The Muppets are also used as the punchline of a dirty joke in Notorious C.H.O.
Cho's other credits include guest spots on Sex and the City, The Nanny, The Rugrats Movie, Face/Off, The Golden Palace and The Critic.
References
External links
Ad blocker interference detected!
Wikia is a free-to-use site that makes money from advertising. We have a modified experience for viewers using ad blockers

Wikia is not accessible if you've made further modifications. Remove the custom ad blocker rule(s) and the page will load as expected.