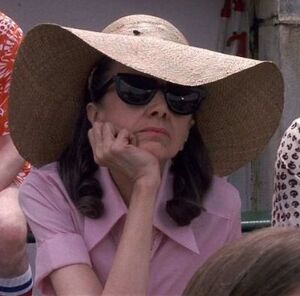 Maree Dow (1915-2005), born Marie Daoust and also credited as Marie Gagne, was an actress who played the woman in the bleachers at Gonzo's aquacade show in The Muppets Take Manhattan.
Dow performed on Broadway in The Pioneers (1943) and as the only women in the cast of No Time for Sergeants (1955, with Don Knotts), playing three small roles. She was also a writer and playwright, winning a 1949 script writing contest for radio drama Dr. Christian and later contributing to The Shadow. She wrote plays for the stage and television in the 1950s.
External links
Ad blocker interference detected!
Wikia is a free-to-use site that makes money from advertising. We have a modified experience for viewers using ad blockers

Wikia is not accessible if you've made further modifications. Remove the custom ad blocker rule(s) and the page will load as expected.