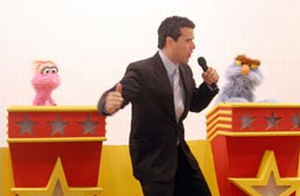 Marco Antonio Regil is a Mexican television personality and game show host, best known for his stint as host of Atínale Al Precio, the Latin American version of The Price is Right, and current host of the Family Feud counterpart 100 Mexicanos Dijeron, airing on the Telivisa network in the US and Mexico. In 2005 and 2006, Regil guest starred on Plaza Sésamo, hosting game show segments.
External links
Ad blocker interference detected!
Wikia is a free-to-use site that makes money from advertising. We have a modified experience for viewers using ad blockers

Wikia is not accessible if you've made further modifications. Remove the custom ad blocker rule(s) and the page will load as expected.