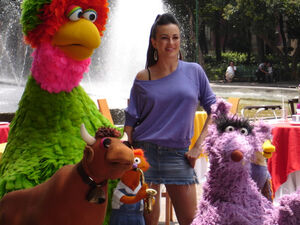 María José (b. 1976) is a Mexican singer and flamenco dancer. She gained popularity from the Mexican pop music group, Kabah, that debuted in 1992. In 2007, she pursue her own solo music career.
José appeared on Plaza Sésamo in 2009, singing "Mambo I, I, I" with the Sésamo cast.[1]
Sources
Ad blocker interference detected!
Wikia is a free-to-use site that makes money from advertising. We have a modified experience for viewers using ad blockers

Wikia is not accessible if you've made further modifications. Remove the custom ad blocker rule(s) and the page will load as expected.