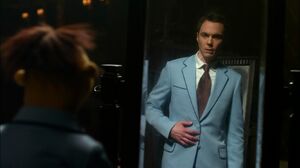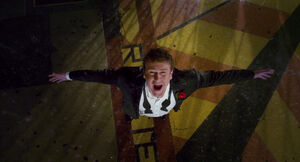 "Man or Muppet" is an Academy Award winning original song from the film The Muppets. The song is sung by Gary and Walter.
During the song Walter sees himself in human form, while Gary sees a Muppet version of himself. The four complete the song together.
| | | |
| --- | --- | --- |
| " | I was channeling power ballads — Harry Nilsson, "Without You" — [singing] "I can't liiive, if living is without yoooou." And Eric Carmen, "All by Myself" — [singing] 'I don't want to live, alllll by myself.' Those are two of my favorites. I knew this had to be an incredibly dramatic song. It's one of those, the more serious the song is, the funnier it would be. I just wanted to make it as epic and dramatic as possible. That's why the chorus is just these relentless long notes at the top of Jason Segel's range. There's something about guys singing at the top of their range, it's really emotionally desperate. | " |
— Bret McKenzie (songwriter)[1]
Bret McKenzie was honored with an Academy Award nomination for "Best Original Song" on January 24, 2012 for the song. Only one other song, "Real In Rio" from the film Rio, was nominated in the category. The Academy Awards were presented on February 26, 2012, and "Man or Muppet" marked the first Oscar win for any Muppet production.
Jim James of My Morning Jacket had written a demo of the song, but it was deemed "incredibly mellow" and was rejected by the producers.[1]
Releases
Music Video
To promote the release of the film's soundtrack, Walt Disney Records released a music video of the song intercut with clips and dialogue from the film. 660px
Awards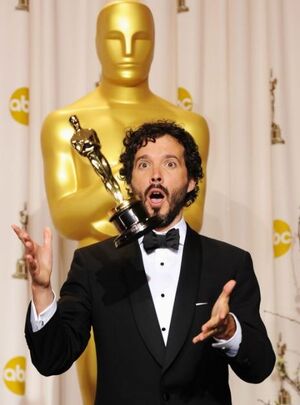 The song has received the following honors.
Additionally, the St. Louis Gateway Film Critics Association Awards nominated the entire soundtrack of The Muppets, including "Man or Muppet," for "Best Music."
Sources
↑ 1.0 1.1 Just a Man Singing About a Muppet Who's Singing About a Man. McKenzie, Bret. The New York Times. December 12, 2011.