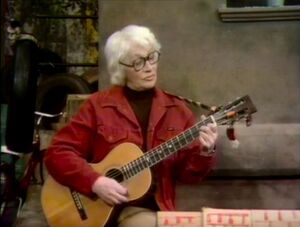 Malvina Reynolds (1900-1978) was a folk singer, songwriter, and political activist who joined the cast of Sesame Street in Season 4, as Kate. Reynolds is perhaps best known for composing the song "Little Boxes," a political satire of suburban life recorded by Pete Seeger and others. She was 73 when she appeared on Sesame Street, and was the oldest cast member at the time (followed by Will Lee).
External links
Ad blocker interference detected!
Wikia is a free-to-use site that makes money from advertising. We have a modified experience for viewers using ad blockers

Wikia is not accessible if you've made further modifications. Remove the custom ad blocker rule(s) and the page will load as expected.