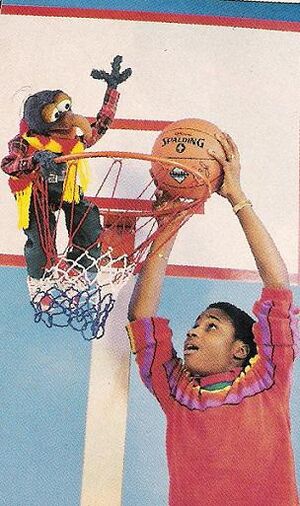 Malcolm-Jamal Warner (b. 1970) is an actor who became famous for his role as Theo Huxtable on The Cosby Show.
In 1986, he appeared on the cover of Muppet Magazine issue 13 with Cosby Show co-stars Lisa Bonet, Tempestt Bledsoe and Keshia Knight Pulliam. The "Cosby Kids" would later appear in an episode of Sesame Street.
In 1994, for Season 26, Warner became the first "celebrity" to direct an episode of Sesame Street.[1] In a 2007 radio interview, he recalled his time working on the show, affectionately referring to the puppeteers as having a "sick-witted" sense of humor.[2]
External links
Sources
↑ Gregory, Deborah. "Malcolm-Jamal Warner: Life After Theo." Essence. August, 1995. Find Articles. 2004. LookSmart, Ltd. Accessed May 28, 2007.
↑ "Malcolm-Jamal Warner interview." The Steve LeVeille Broadcast (Morgan White, Jr, filling in). WBZ Radio. Boston, MA. WBZ 1030AM. May 29, 2007. Audio Excerpt
Ad blocker interference detected!
Wikia is a free-to-use site that makes money from advertising. We have a modified experience for viewers using ad blockers

Wikia is not accessible if you've made further modifications. Remove the custom ad blocker rule(s) and the page will load as expected.