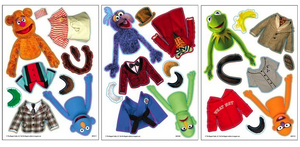 Make-A-Muppet magnet sheets are sets of magnets released with select Muppet movies on DVD in 2009.
They feature Kermit the Frog, Fozzie Bear, Gonzo and some Whatnots from the Muppet Whatnot Workshop. Accessories include Kermit and Fozzie's Pizza Twins outfits, Gonzo's cardigan from Muppet Weird Stuff and Charles Dickens' top hat and coat tails.

Ad blocker interference detected!
Wikia is a free-to-use site that makes money from advertising. We have a modified experience for viewers using ad blockers

Wikia is not accessible if you've made further modifications. Remove the custom ad blocker rule(s) and the page will load as expected.