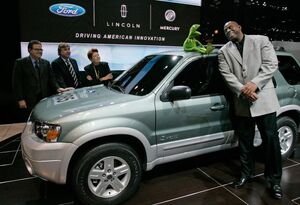 Earvin "Magic" Johnson Jr. (b. 1959) is a retired American professional basketball player who played for the Los Angeles Lakers, won 5 NBA championships, and was a member of the gold medal winning "Dream Team" for the Olympic Games.
Johnson introduced the Ford E85 Escape Hybrid with Kermit at the 2006 Chicago Auto Show.
External links
Ad blocker interference detected!
Wikia is a free-to-use site that makes money from advertising. We have a modified experience for viewers using ad blockers

Wikia is not accessible if you've made further modifications. Remove the custom ad blocker rule(s) and the page will load as expected.