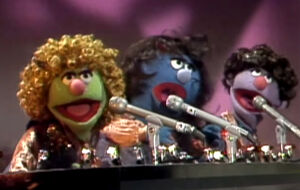 Maeretha Stewart is a singer and actress featured as a member of the Androoze Sisters on Every Body's Record and as one of "Les Girls" in Big Bird Discovers the Orchestra. She was also heard in the backing chorus on Sesame Street Fever and Sesame Disco! She served the same function on Sesame Street, as one of the girl trio backing Cookie Monster on "Me Lost Me Cookie at the Disco" (and in other skits).
She sang on the Schoolhouse Rock segment "Do the Circulation" and numerous other musical projects, including a 1990 version of George and Ira Gershwin's Porgy and Bess.
External links
Ad blocker interference detected!
Wikia is a free-to-use site that makes money from advertising. We have a modified experience for viewers using ad blockers

Wikia is not accessible if you've made further modifications. Remove the custom ad blocker rule(s) and the page will load as expected.