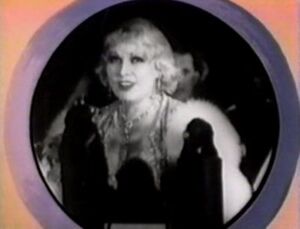 Mae West (1893-1980) was an actress known for her larger than life persona and arch, sexually-charged delivery of dialogue (often rife with double entendres). After a career on stage, she became a movie star (in both mediums, often writing her own material). Her most famous line was "Why don't you come up and see me some time?"
She starred in She Done Him Wrong (with Cary Grant), Belle of the Nineties, and My Little Chickadee (with W. C. Fields), while making a comeback attempt in the offbeat 1970 film Myra Breckenridge (with Raquel Welch). West was a sex symbol, one of the most iconic movie stars of old Hollywood, and subject of the Salvador Dali painting Mae West's Face which May be Used as a Surrealist Apartment.
References
Ad blocker interference detected!
Wikia is a free-to-use site that makes money from advertising. We have a modified experience for viewers using ad blockers

Wikia is not accessible if you've made further modifications. Remove the custom ad blocker rule(s) and the page will load as expected.