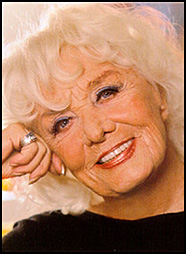 Mady Rahl (1915-2009) was a German actress who voiced Ma Gorg in later episodes on Die Fraggles, the German co-production of Fraggle Rock, and canteen worker Gladys and guest star Pearl Bailey on Die Muppet Show.
Rahl, born Edith Gertrud Meta Raschke, was actress, voice artist, chanson singer, and impressionist painter in one. Besides her on-camera career of over fifty roles in movies and TV shows, she did dubbing work in the animes The Wonderful Adventures of Nils (Akka), Princess Mononoke (Moro), and she was Lucille Ball's German voice. She also dubbed Arlene Francis in One, Two, Three, Irma P. Hall in Nothing to Lose, and Mae Busch in the Laurel and Hardy two-reeler The Live Ghost.
Ad blocker interference detected!
Wikia is a free-to-use site that makes money from advertising. We have a modified experience for viewers using ad blockers

Wikia is not accessible if you've made further modifications. Remove the custom ad blocker rule(s) and the page will load as expected.