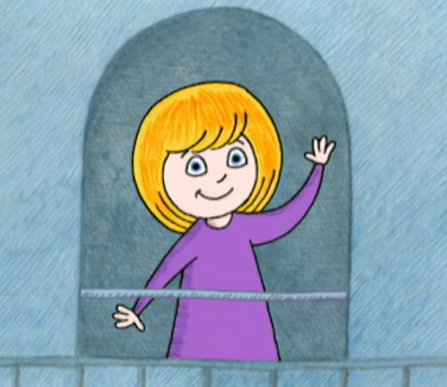 Madlenka is the title character in a series of children's books by Peter Sis, which began with the eponymous Madlenka in 2000. A small girl living in an ethnically diverse neighborhood (based on New York City), Madlenka learns about her neighbors' cultures and personal histories.
In Season 35 of Sesame Street, Madlenka was adapted for animated segments, following "Global Grover" and alternating with "Global Thingy". The series shows inter-ethnic friendship and tolerance, and each segment ends with Madlenka and neighbors exchanging multilingual goodnights.
The theme song is performed by Kevin Clash, in a Louis Armstrong imitation and written by Mike Renzi and Sarah Durkee.
Sketches
Madlenka Cheers Up : Madlenka is sick, and friends and neighbors try to cheer her up. Madlenka imagines her neighborhood as a circus. (First: Episode 4078)
Garden : Madlenka, admiring her tulip, notices how bare her neighborhood is. With the help of her fellow apartment dwellers, she plants a variety of trees and flowers, beautifying the area. (First: Episode 4059)
Getting to School : Madlenka imagines the many different ways she could get to school. (First: Episode 4065)
Music : Madlenka plays her violin for the various people on her street, sparking memories of instruments they used to play. (First: Episode 4081)