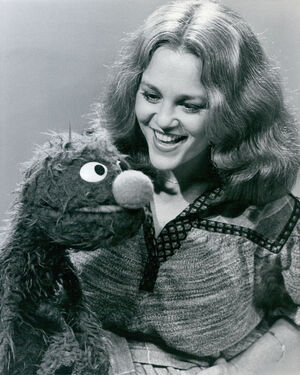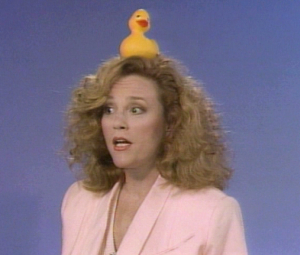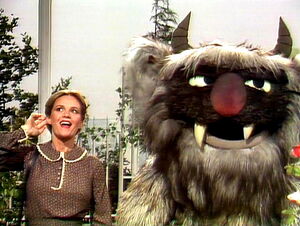 Madeline Kahn (1942–1999) was a comedic actress best known for her roles in Mel Brooks films, including Young Frankenstein, Blazing Saddles and High Anxiety. She won a Tony Award in 1993 for her role in The Sisters Rosensweig. She also voiced Gypsy in Pixar's A Bug's Life.
1977: Guest star on The Muppet Show episode 209.
1978: Recorded inserts for Sesame Street (see below).
1979: Made a cameo in the El Sleezo Cafe scene in The Muppet Movie.
1981: Portrayed Madeline, a bird watcher, in Episode 1576.
1994: Makes an appearance in Episode 3136.
Appearances in Sesame Street inserts
Madeline and Grover sing an echo song.
Madeline Kahn says "Me", as the word appears on-screen.
Madeline makes the M sound, and then says her name.
She appears in the celebrity-edited version, wearing a Rubber Duckie on her head.
Madeline says that although she likes rhinoceroses, she wouldn't invite one over for lunch.
Madeline plays a pair of identical twins, who take turns counting to 20.
External links
Ad blocker interference detected!
Wikia is a free-to-use site that makes money from advertising. We have a modified experience for viewers using ad blockers

Wikia is not accessible if you've made further modifications. Remove the custom ad blocker rule(s) and the page will load as expected.