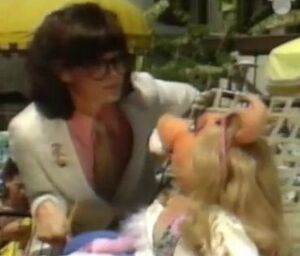 Madeline is Miss Piggy's personal secretary and assistant in The Muppets Go Hollywood. She takes dictation as Piggy attempts to complete poolside correspondence (including a letter to Jimmy Carter), before leaving so Rita Moreno can interview the pig.
Madeline is instructed to interrupt only for important calls, such as from Frank Sinatra (further calls from Robert Redford and Paul Newman are postponed when Scooter runs out of dimes).
Ad blocker interference detected!
Wikia is a free-to-use site that makes money from advertising. We have a modified experience for viewers using ad blockers

Wikia is not accessible if you've made further modifications. Remove the custom ad blocker rule(s) and the page will load as expected.