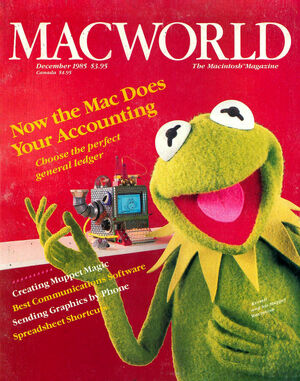 Macworld was a magazine publication covering products made by Apple Inc., from 1984 until 2014 (and continued as a website only after that).
Kermit the Frog appeared on the cover in the December 1985 issue. The feature article "The Muppets Meet the Macintosh" by Jeffrey S. Young focused on the use of Macs by Jim Henson and staffers including Christopher Cerf and Bill Prady. Muppet games for the Macintosh are discussed and photos of the staffers with Muppets (and Macs) illustrate the article.

Ad blocker interference detected!
Wikia is a free-to-use site that makes money from advertising. We have a modified experience for viewers using ad blockers

Wikia is not accessible if you've made further modifications. Remove the custom ad blocker rule(s) and the page will load as expected.