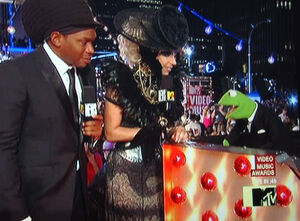 The MTV Video Music Awards have been celebrated annually since 1984 and air on MTV.
In 2009, Kermit the Frog was interviewed on the red carpet during the pre-show as Lady Gaga's date on September 13. Despite several kisses throughout the interview, they explain that they're just friends. This to counter several text messages sent by Miss Piggy insisting that they not stay out all night.
Notes
After Kermit's appearance on America's Got Talent, and at the D23 Expo during the week prior, the frog was publicly performed by Artie Esposito for the third time. Out promoting The Muppets two years later, Kermit (again performed by Steve Whitmire) quipped about the incidence on a radio interview, saying that he told jealous Piggy that the frog that had kissed Lady Gaga "had nothing to do with [him]; that it actually wasn't [him]; that it was an impostor."
Ad blocker interference detected!
Wikia is a free-to-use site that makes money from advertising. We have a modified experience for viewers using ad blockers

Wikia is not accessible if you've made further modifications. Remove the custom ad blocker rule(s) and the page will load as expected.