M. C. Escher
Talk

0
25,904pages on
this wiki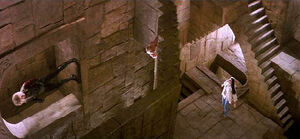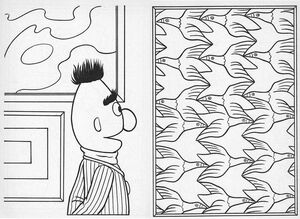 M.C. Escher (1898 – 1972) was a Dutch graphic artist known for his often mathematically inspired woodcuts, lithographs and mezzotints which feature impossible constructions, explorations of infinity, architecture, and tessellations.
One of Esher's famous work titled Relativity depicts a paradoxical world in which the normal laws of gravity do not apply. The piece of art was the source for the Illusionary maze in Labyrinth. As a result the Escher estate was given acknowledgment in the credits for the film. A copy of Relativity can also be seen hanging in Sarah's bedroom.
In the Sesame Street coloring book Museum of Monster Art, Bert is admiring Regular Division of the Plane with Birds.
Baby Gonzo and Baby Piggy find themselves in a room based on Relativity in the Muppet Babies episode "Romancing the Weirdo".
Exterior links