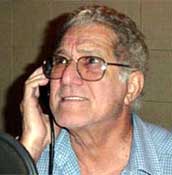 Mário Monjardim (b. 1935) is a Brazilian voice actor, who voiced Waldorf for Muppets do Espaço, the Brazilian Portuguese dub of Muppets from Space, and Animal in Muppet Babies.
Like Pietro Mário, he has dubbed Captain Caveman. Other characters include Bugs Bunny and Foghorn Leghorn for Looney Tunes, Shaggy for Scooby-Doo, Jerry Lewis in various productions, a character in The Super Globetrotters, Greedy and Grouchy in the classic version of The Smurfs, and "Skinny" in the 1986 dub of Dumbo.
Ad blocker interference detected!
Wikia is a free-to-use site that makes money from advertising. We have a modified experience for viewers using ad blockers

Wikia is not accessible if you've made further modifications. Remove the custom ad blocker rule(s) and the page will load as expected.