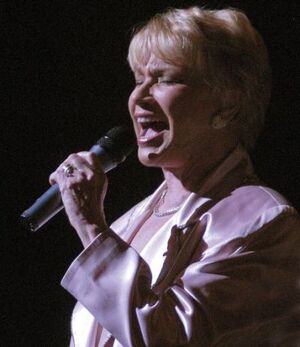 Lynn Roberts (b. ca. 1935) is a singer who voiced one of the Androoze Sisters who sang "Everybody's Song" on the 1979 album Every Body's Record. She sang in other inserts on Sesame Street.
The choice of Roberts as an Andrews Sister spoof was typecasting, since beginning as a teenager, she was a frequent vocalist for the big bands, beginning with Charlie Spivak at age fifteen. By seventeen, she was singing with Tommy Dorsey's band on records and radio (1952-1956). When the elder Dorsey died in 1956, Roberts remained with his brother Jimmy Dorsey for a time and then freelanced, heard on The Gershwin Years (1959) and singing with Benny Goodman in the 1960s.
In 1978, Roberts played a principal role in the Broadway show Ballroom as ballroom dancer/singer Marlene, and the following year she toured with Harry James in The Big Broadcast of 1944 (playing one of the Pied Pipers). After James died, Roberts recorded the 1984 tribute album Harry, You Made Me Love You (with Mel Davis playing the Harry James-style trumpet solos). She continued to record (including children's records) and sing in occasional tours and events. Her voice was also heard in many jingles and commercials, including as Chiquita Banana in the 1970s.
External links
Ad blocker interference detected!
Wikia is a free-to-use site that makes money from advertising. We have a modified experience for viewers using ad blockers

Wikia is not accessible if you've made further modifications. Remove the custom ad blocker rule(s) and the page will load as expected.