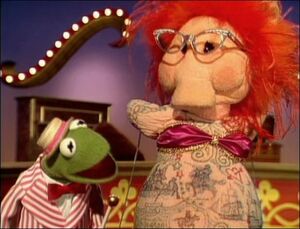 "Lydia, the Tattooed Lady" is a novelty song written by Harold Arlen and E. Y. Harburg for the 1939 Marx Brothers film At the Circus, in which it was performed by Groucho Marx.
According to the Muppet Morsels included in The Muppet Show: Season One DVDs, it was one of Jim Henson's favorite songs. It has been performed by the Muppets on several occasions.
The song was performed by Kermit the Frog as the opening number on episode 102. Kermit, accompanied by Rowlf on the piano and Animal on the drums, sings "Lydia, the Tattooed Lady" while pointing out the relevant tattoos on a redheaded pig named Lydia while she dances beside him. After the song, Kermit gets knocked over from just one punch, courtesy of an angry Miss Piggy.
The song was performed on the same set as "Simon Smith and His Amazing Dancing Bear" from episode 101.
The song was also performed by Kevin Clash as Elmo at Jim Henson's public memorial service.
Releases
Audio
Video