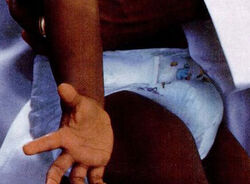 Luvs is a brand of diaper, that featured images of the Sesame Street Muppets in the 1980s. Created by Procter and Gamble, the makers of Pampers, they were considered a premium brand at the time.
In 1987, two Sesame Street books were packaged with the diapers, featuring toddler versions of the Sesame characters -- Tubby Time for Little Ernie and Good Morning, Little Bert!
Other related premium offers, circa 1988, have included a video from the My Sesame Street Home Video series, and a choice of either a baby Cookie Monster or baby Big Bird plush doll.
External links
Ad blocker interference detected!
Wikia is a free-to-use site that makes money from advertising. We have a modified experience for viewers using ad blockers

Wikia is not accessible if you've made further modifications. Remove the custom ad blocker rule(s) and the page will load as expected.