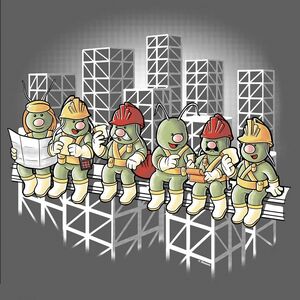 Lunch atop a Skyscraper is a famous black-and-white photograph taken during construction of the RCA Building at 30 Rockefeller Center in New York City by an unknown photographer. The 1932 photograph depicts men eating lunch, seated on a girder with their feet dangling above the New York City streets.
In 2015, Zen Monkey Studios released a T-shirt of a group of Doozers sitting atop a Doozer structure in a nod to the photograph.
Ad blocker interference detected!
Wikia is a free-to-use site that makes money from advertising. We have a modified experience for viewers using ad blockers

Wikia is not accessible if you've made further modifications. Remove the custom ad blocker rule(s) and the page will load as expected.