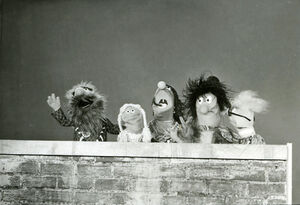 "Lucy in the Sky with Diamonds" is a song written and performed by the Beatles released in 1967. The song was famously covered by Elton John in 1974, and his rendition became the only cover of a Beatles song to reach the No. 1 spot on the Billboard Hot 100.
The first season of Sesame Street featured a cover of the song with unaltered music and lyrics (in contrast to later Beatles covers and parodies). The song is sung by a Reddish-Magenta Anything Muppet with yellow, braided pigtails and a red and white polka dot dress (who was also seen in "Consider Yourself"). The girl sings sweetly until the chorus which is loudly performed by a group of hippie Anything Muppets (the same from "Good Morning Starshine").
The segment ends with the girl telling the lead hippie that it's not Lucy in the sky with diamonds, it's Wanda the Witch.
The girl's singing voice is performed by Loretta Long while the puppetry and speaking voice is provided by Frank Oz.
External Links
Ad blocker interference detected!
Wikia is a free-to-use site that makes money from advertising. We have a modified experience for viewers using ad blockers

Wikia is not accessible if you've made further modifications. Remove the custom ad blocker rule(s) and the page will load as expected.