Lucille Ball
Talk

5
25,900pages on
this wiki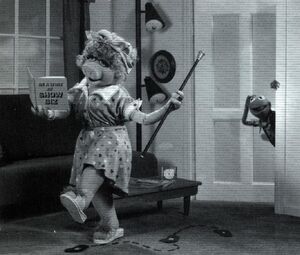 Lucille Ball (1911–1989) was an actress and comedianne best remembered for her sit-com I Love Lucy.
A star of screen, stage, television, and radio, Ball had a long and distinguished career. One of the most popular celebrities in America during her lifetime, she received thirteen Emmy Award nominations, and won four times.
After her passing, TV Land honored her as one of the 50 Greatest TV Icons, TIME named her one of the 100 Most Important People of the Century, and TV Guide voted her the "Greatest TV Star of All Time". Her likeness is even featured as a walk-around character at Universal Studios.
Ball had a long-time friendship with Bob Hope, appearing in many of his specials including Happy Birthday, Bob and The Bob Hope Christmas Special (1977), where Big Bird was a co-host.
References
On the first episode of Muppets Tonight, Gonzo looks over the new KMUP evening line-up. One of the shows on the schedule is Here's Moosey, a spoof on Ball's sit-com Here's Lucy.
In Sesame Street Unpaved, it's pointed out that Snuffy shares his astrological sign, Leo, with Lucille Ball (""Vitameatavegemin" is almost as hard to say as Snuffleupagus").
During a 2007 appearance on Loose Women, Piggy is asked about how to deal with hecklers as a stand-up comedian. She suggests a good karate chop even though she says she's less of a stand-up act than she is the Lucille Ball type.
External links