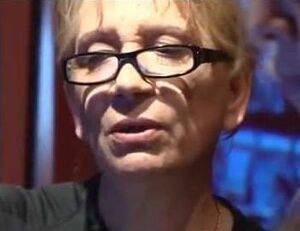 Lucía Esteban is a Spanish actress who dubbed Red Fraggle (renamed Rosy) on Los Fraguel, the Castilian Spanish dub of Fraggle Rock. She has frequently dubbed Whoopi Goldberg, including her appearances in Los Teleñecos en Navidad (It's a Very Merry Muppet Christmas Movie), Los Muppets (2011), Los Teleñecos en Navidad: Cartas a Santa (A Muppets Christmas: Letters to Santa), and Alice in Wonderland.
Esteban began her dubbing career in the 1970s, as the Castilian voice of Maureen O'Sullivan in the Tarzan movies. Later film dubbing included Susan Sarandon in Enchanted, Billie Whitelaw in Start the Revolution Without Me, Barbara Billingsley in Invaders from Mars, and Richenda Carey in Residue.
For TV, she has dubbed Diana Rigg on Game of Thrones, Lily Tomlin on Gracie and Frankie, and Roseanne Barr on Roseanne. Video game roles include Ms. Fortune in Toonstruck and Madame Hooch in the Harry Potter games.
External links
Ad blocker interference detected!
Wikia is a free-to-use site that makes money from advertising. We have a modified experience for viewers using ad blockers

Wikia is not accessible if you've made further modifications. Remove the custom ad blocker rule(s) and the page will load as expected.