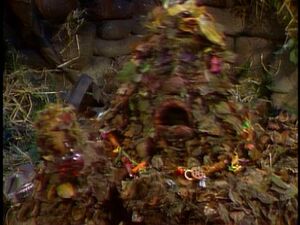 "Lover, Lover, Number 9" is sung by Marjory the Trash Heap, Philo, and Gunge in the Fraggle Rock episode "We Love You, Wembley."
Mokey brings Wembley to the Trash Heap for advice about his feelings for Lou, and the Trash Heap advises him to use a love potion to gain her affection. It is sung with slightly different lyrics as "Wembley, Wembley, Number 9" later in the episode.
The name of the song (and the potion itself) are references to the Searchers' 1960s hit song "Love Potion No. 9."