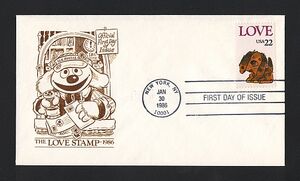 The First Day of Issue ceremony for the US Postal Service Love stamp[1] took place in New York City on January 30, 1986, in time for Valentine's Day mailings.[2] The 22c stamp, which was designed by Saul Mandel, depicts a childlike drawing of a puppy.
According to the First Day Ceremony Program,[3] the event featured "Musical Selections" performed by Jim Henson and Rowlf the Dog.
Many different cacheted First Day Covers were created for this stamp, including one illustrated by Guy Gilchrist and portraying Rowlf dressed as a USPS window clerk.[4]
The stamp was also the focus of a Sesame Street film insert in the 1980s that showed how stamps were manufactured. (EKA: Episode 2283)
References
Sources
See also
Ad blocker interference detected!
Wikia is a free-to-use site that makes money from advertising. We have a modified experience for viewers using ad blockers

Wikia is not accessible if you've made further modifications. Remove the custom ad blocker rule(s) and the page will load as expected.