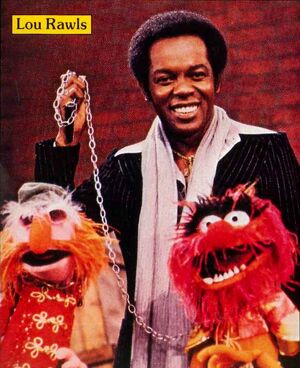 Lou Rawls (1933-2006) was an actor and R&B singer with a four-octave range. His notable hits from the 1970s include You'll Never Find Another Love Like Mine and Lady Love. He was also the singing voice in the Garfield TV specials that aired on CBS during the 1980s and 1990s.
Rawls sang the alphabet in an insert from Sesame Street Episode 0043. He was also the guest star on The Muppet Show episode 215, where he performed his hit "Groovy People."
Rawls died of lung cancer on January 6, 2006.
Rawls' performance of the Alphabet Song is included in the DVD set Old School: Volume 1. According to the set's booklet, Rawls balked at the idea of using cue cards during the performance, only to change his mind when he forgot the order of the letters.
External links
Ad blocker interference detected!
Wikia is a free-to-use site that makes money from advertising. We have a modified experience for viewers using ad blockers

Wikia is not accessible if you've made further modifications. Remove the custom ad blocker rule(s) and the page will load as expected.