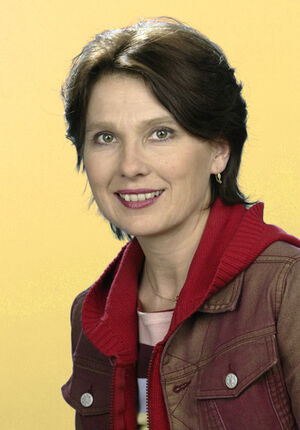 Lot Lohr (b. 1963) plays Lot on Sesamstraat, the Dutch co-production of Sesame Street.
Lot made her debut on Sesamstraat in 1988, replacing Esther Prins as the teenage girl character. Through the years, Lot grew from the Muppets' "big sister" to a "working mother" character who is often too busy and stressed to look after the kids. Besides the street scenes, Lot is often the "host" for game shows, and she interacts with children in classrooms.
When Lohr's character grew a little older, Elvan Akyildiz became the new teenage girl.
Lohr previously starred in a kids' show called Sanne, as the title character. Lohr also does voicework for cartoons.
Ad blocker interference detected!
Wikia is a free-to-use site that makes money from advertising. We have a modified experience for viewers using ad blockers

Wikia is not accessible if you've made further modifications. Remove the custom ad blocker rule(s) and the page will load as expected.