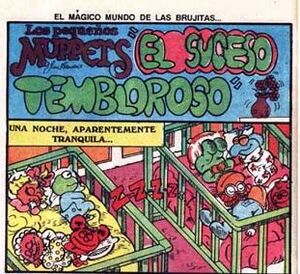 Los Pequeños Muppets is the Mexican dub of Muppet Babies, syndicated on various Mexican networks, notably Canal Cinco, which aired the program off and on for over a decade.
As with most Spanish dubbed cartoons, no title cards were altered; instead, a voice-over announcer read the Spanish translation for all on-screen text. A tie-in comic book, also called Los Pequeños Muppets, was first published by Grupo Editorial Vid in 1989.
Voices
External links
Ad blocker interference detected!
Wikia is a free-to-use site that makes money from advertising. We have a modified experience for viewers using ad blockers

Wikia is not accessible if you've made further modifications. Remove the custom ad blocker rule(s) and the page will load as expected.