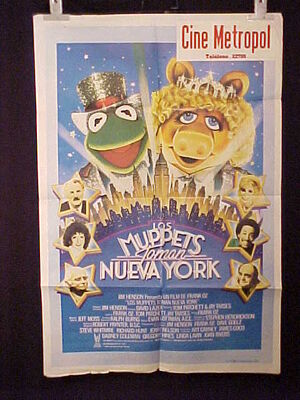 Los Muppets Toman Nueva York or Los Muppets Toman Manhattan is the Mexican dub of The Muppets Take Manhattan. The same dub has been used in other Latin American countries, including Argentina, and it is utilized as the Spanish track on US DVD release. The most recent Latin American DVD used the title Los Muppets en Nueva York.
The soundtrack was dubbed in the Churubusco Azteca srudios in Mexico, with Kermit Love serving as supervisor (but not voice director) to ensure the characters reflected the original sound.
Voices
Sources
YouTube video uploader comments by dubbing actor Héctor Lee
Ad blocker interference detected!
Wikia is a free-to-use site that makes money from advertising. We have a modified experience for viewers using ad blockers

Wikia is not accessible if you've made further modifications. Remove the custom ad blocker rule(s) and the page will load as expected.