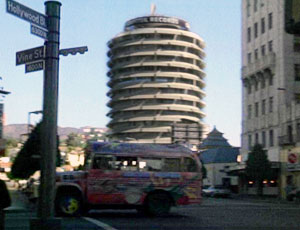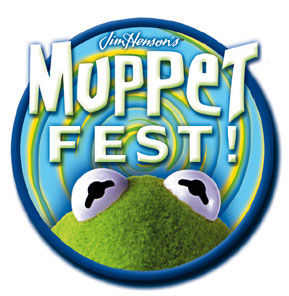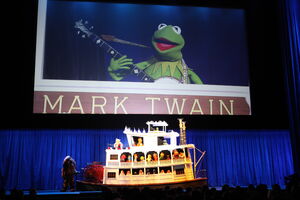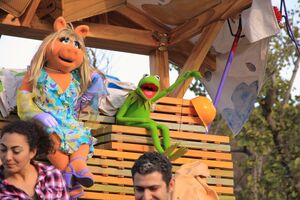 California is the 31st state of the United States of America. Its capital is Sacramento and its largest city is Los Angeles.
Disney California Adventure, at the Disneyland Resort, is home to Muppet*Vision 3D.
MuppetFest, the Muppet fan convention, was held in Santa Monica in 2001.
At the 2009 D23 Expo held in Anaheim, Kermit, Fozzie, Pepe, Gonzo, Miss Piggy, Animal, Janice, Floyd, Dr. Teeth, Zoot, Dr. Bunsen Honeydew, Beaker, Scooter, Rizzo, Lew Zealand, Robin, Penguins, Chickens, Sweetums, Statler and Waldorf appeared at the "Disney Movie Magic: Inside the Disney Studios" arena presentation on September 11. Pepe, Sam the Eagle, Gonzo, Fozzie, and The Swedish Chef made an appearance at The Muppets Presentation on September 13.
At the 2011 D23 Expo held in Anaheim, Jim Henson was named a Disney Legend and Kermit and Rowlf the Dog made an appearance on August 19. Kermit and Miss Piggy made an appearance at the "Inside the Walt Disney Studios" arena presentation on August 20.
Ad blocker interference detected!
Wikia is a free-to-use site that makes money from advertising. We have a modified experience for viewers using ad blockers

Wikia is not accessible if you've made further modifications. Remove the custom ad blocker rule(s) and the page will load as expected.