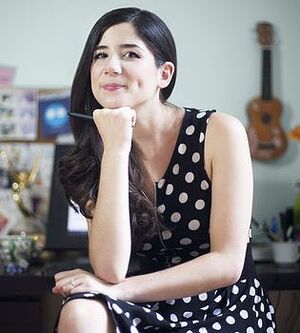 Loryn Brantz is an illustrator and design professional, who has worked as a builder/designer for Sesame Street. Her work primarily consisted of props (including Rocco) and costumes for Muppet characters and for photo shoots. She first received screen credit in season 39 (2008) and then from Season 41 (2010) until season 43. She shared in a Daytime Emmy Award in 2011 for Outstanding Achievement in Costume Design/Styling.
Brantz also worked on specials such as Elmo's Christmas Countdown, When Families Grieve, and the home video release Abby in Wonderland. She has written and illustrated the children's book Harvey the Child Mime (2010), as well as illustrating titles by other authors. She is currently a staff writer/artist for the website BuzzFeed.
External links
Ad blocker interference detected!
Wikia is a free-to-use site that makes money from advertising. We have a modified experience for viewers using ad blockers

Wikia is not accessible if you've made further modifications. Remove the custom ad blocker rule(s) and the page will load as expected.