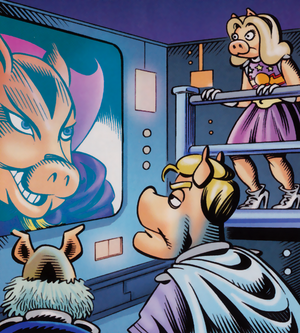 Lord Spongg is a foe to the crew of The Swinetrek in The Muppet Show Comic Book: The Four Seasons #3.
In exchange for not blasting the Pigs in Space cast to atoms, they agree to retrieve the Spongg Ruby from the leaf people of Paltroon.
See also
Ad blocker interference detected!
Wikia is a free-to-use site that makes money from advertising. We have a modified experience for viewers using ad blockers

Wikia is not accessible if you've made further modifications. Remove the custom ad blocker rule(s) and the page will load as expected.