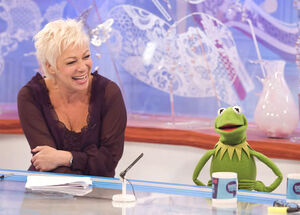 Loose Women is a talk show airing on ITV in the UK.
Appearances
June 11, 2012 -- Kermit and Pepe appeared to promote the release of The Muppets on home video. Kermit fielded questions about his relationship with Miss Piggy and mentioned that they would be starting on a new movie soon, while Pepe hung out backstage with opera singer Lesley Garrett and claimed to have been married 17 times.
External links
Ad blocker interference detected!
Wikia is a free-to-use site that makes money from advertising. We have a modified experience for viewers using ad blockers

Wikia is not accessible if you've made further modifications. Remove the custom ad blocker rule(s) and the page will load as expected.