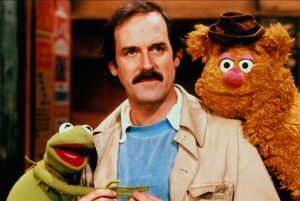 John Cleese (b. 1939) is a popular British comedian who was once a member of the famed Monty Python troupe. He is also well-known for his starring role in the TV series Fawlty Towers, and for writing and costarring in the film A Fish Called Wanda. His more recent works have included Shrek 2, Shrek the Third and Shrek Forever After as the King, The Pink Panther 2, and Charlie's Angels.
In 1977, he was the featured guest star in The Muppet Show episode 223, which he also co-wrote.
Cleese also had a cameo appearance in the 1981 film The Great Muppet Caper, as the bewildered home owner Neville.
In 1997, he supplied the voice of An Ape Named Ape for the Creature Shop production George of the Jungle.
Cleese also played a grizzled sergeant in the 2004 film Around the World in 80 Days, which included visual effects by the Creature Shop.
External links
Ad blocker interference detected!
Wikia is a free-to-use site that makes money from advertising. We have a modified experience for viewers using ad blockers

Wikia is not accessible if you've made further modifications. Remove the custom ad blocker rule(s) and the page will load as expected.