Ad blocker interference detected!
Wikia is a free-to-use site that makes money from advertising. We have a modified experience for viewers using ad blockers

Wikia is not accessible if you've made further modifications. Remove the custom ad blocker rule(s) and the page will load as expected.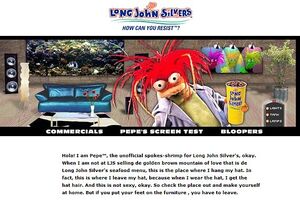 Pepe the King Prawn appeared in a series of commercials for Long John Silver's restaurants directed by Bill Barretta in 2002. In one commercial, Pepe makes a rare appearance without any clothing.
Commercials
Television Ads
Crunchy Shrimp - 0:10
Crunchy Shrimp - 0:15
Crunchy Shrimp - 0:30
Crunchy Shrimp II - 0:30
Lobster Stuffed Crabcakes - 0:10
Lobster Stuffed Crabcakes - 0:15
Lobster Stuffed Crabcakes - 0:30
Online Exclusives
Pepe's Screen Test - 3:25
Blooper Reel 1 - 1:07
Blooper Reel 2 - 0:54
See also