Ad blocker interference detected!
Wikia is a free-to-use site that makes money from advertising. We have a modified experience for viewers using ad blockers

Wikia is not accessible if you've made further modifications. Remove the custom ad blocker rule(s) and the page will load as expected.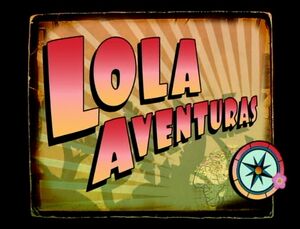 "Lola Aventuras" ("The Lola Adventures") is a recurring segment on Plaza Sésamo, debuting in 2005. Each segment has Lola going on an adventure and trying to solve a problem that she faced on her adventure. Later segments has Lola visit countries in parts of Latin America. These segments appear usually at the beginning or ending of an episode.
The goal for these segments was to show that girls are active and adventurous learners.
"
She is Alice in Wonderland meets Indiana Jones. But for Lola, Wonderland is literacy, letters, numbers, and culture, and the wild adventure is learning to read and write and exploring the diversity of a child's world.
"
-executive producer Ginger Brown[1]
Segments
| Picture | Adventure | First Appearance | Description |
| --- | --- | --- | --- |
| | Butterflies | Episodio 798 | Lola is in Michoacán, Mexico to look at the monarch butterflies in the forest. After finding the butterflies, she tells us that if we want to keep seeing the butterflies, we have to take care of the forest and not cut them down. After deciding to name some butterflies, Lola imagines how it would be like to have butterfly wings. |
| | Submarine | Episodio 827 | Lola is on her underwater adventure in her pink submarine and sees sea animals: a whale, seahorse, and a school of fishes. Suddenly she sees a monster swimming in the water. She helps him to the surface by having him hold on to her submarine. |
| | Cats | Episodio 831 | Lola lost her cat and is looking for it. She finds 4 cats, who appeared up from behind walls and in houses, but they don't belong to her. Later, a white cat with a flower in her ear appeared and Lola proclaims that it is her cat. She counted her cat with the other cats to make 5 cats all together. With so many cats, Lola didn't know what to do with them. Then she came with an idea of having the cats all meow together to make a nice musical sound. |
| | Counting Planets | Episodio 842 | Lola is out in outer space and is trying to find 9 planets. Pancho appears as Captain Onion to help guide Lola to each planet. Every time Lola lands on a planet, Pancho asks if there are any onions on that planet, but Lola couldn't find any on each planet. In the end, Lola has found all 9 planets, but she never found any onions for Pancho. |
| | Safari | Episodio 848 | Lola is on a safari in the jungle and looking at animals. She sees elephants, giraffe, zebras, crocodiles, rhinoceros, and lions. When a balloon lady comes by, Lola reveals that she is not in the jungle, but at a zoo. |
| | Temples of Tula | Episodio 851 | Lola is in a place called Tula in Hidalgo, Mexico. She sees a lot of pyramids and wants to climb to the top because she heard there are giants up there called the Giants of Tula. She goes to the top of the pyramids and sees the Giants of Tula were made of stone. As she was thinking of who created them, one of the Giants of Tula explain that they are made by the people in Tula called Toltecas and explain how important they are to Tula. Lola is amazed at the talking Giants of Tula and thinks they are fantastic. |
| | Arctic | Episodio 856 | Lola is in the North Pole and is looking for the snow monster that lives there. Overhearing Lola's conversation, a penguin appears and replied that it is the snow monster. Lola is excited and asks the penguin why this place is so cold? The penguin believes there is a water monster around, but Lola tells the penguin that she thinks it is cold because the rays of the sun are not that strong around here. The penguin replies that she is correct and gives her a present, a strawberry snow cone. Lola is happy since strawberry is her favorite and eats it as the penguin tells her other flavors they have for snow cones. |
| | Waterfalls | Episodio 882 | Lola and her monster guide observe waterfalls. |
| | Clouds | Episodio 893 | Lola rides in Barón Púrpura's hot air balloon. They point out the clouds they think look like various things. Once they land, a monster hiker mistakes them for clouds. |
| | Mountains | Episodio 911 | Lola goes mountain climbing with her monster friend. |
| | Machu Picchu | Episodio 917 | Lola is in Peru and is trying to find Machu Picchu. She ask a person for help and he helps her find it. They both admired the ancient location and the city residents below Huayna Picchu. |
| | Desert | Episodio 924 | Lola goes to the desert to look at the animals there. She sees a lizard, a coyote, and a snake. On her trip, she sees some cactus, but then she notice one that is orange and not spiky as the others. It turns out to be a monster, who invites her to sit in the sun with him. |
| | Waterfalls | Episodio 935 | Lola parachutes to observe waterfalls up close. A monster friend awaits her arrival to the ground and shows her a rainbow from the mist. |
| | Hearts | Episodio 939 | Lola is at the doctor's office in Columbia. The doctor is showing her how a stethoscope is used to listen to her heartbeats. When the doctor leaves for a while to take care of an emergency, he leaves Lola with the stethoscope to listen to her heartbeat. Lola likes the sound of her heartbeat that soon she imagines herself in her pink submarine going through the blood stream and finds her heart. The heart talks to Lola and tells her how to keep her heart healthy by eating healthy food and exercising. Suddenly the doctor wakes her up and tells her that she was sleeping. |
| | Jungle | Episodio 940 | Lola flies in her hot air balloon and lands in a Colombian jungle. She observes the fauna of the area, noting how they have hearts. |
| | Ocean | Episodio 947 | Lola uses her submarine to dive underwater, where a pink fish tells her about the various sea creatures. |
| | Flowers | Episodio 962 | Lola appears in her shrinking submarine to observe the different parts of a plant up close. |
| | Garden | Episodio 966 | Lola's hot air balloon dumps her off in a garden and she watches some kids plant flowers. |
| | Turtle | Episodio 979 | Lola dives underwater and makes friends with a turtle that teachers her about the life of a turtle. |
| | Recycling | | Lola visits a lush field, but finds a bottle thrown into the water. She turns her submarine into a helicopter and flies it to a recycling plant. |
Sources
↑ Plaza Sésamo: "Yo Creci con Plaza Sésamo!" at Sesame Workshop
External links