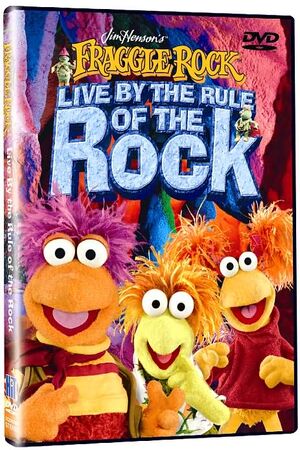 Live by the Rule of the Rock is a Fraggle Rock DVD released in 2005, containing four episodes from the series.
Episodes
DVD Bonus Features
Trivia
Although the bonus episode included in the Dance Your Cares Away DVD used the original Fraggle Rock with Jim Henson's Muppets logo, the bonus episode included in this DVD has the newer Jim Henson's Fraggle Rock logo.
This is the last release to have the opening and closing shown once. This is also the last video to have redone credits and a Fraggle Rock logo in the middle of each episode.
Gallery
Ad blocker interference detected!
Wikia is a free-to-use site that makes money from advertising. We have a modified experience for viewers using ad blockers

Wikia is not accessible if you've made further modifications. Remove the custom ad blocker rule(s) and the page will load as expected.