Live!
Talk

0
27,664pages on
this wiki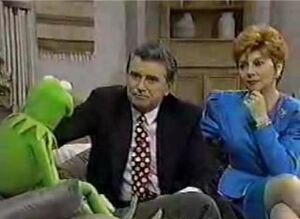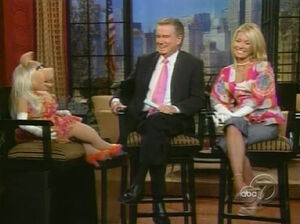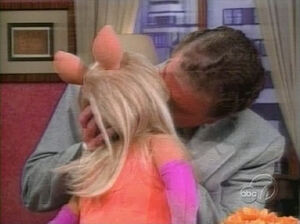 Live! is a nationally syndicated daytime talk show best known for it hosts Regis Philbin (1988-2011), Kathie Lee Gifford (1988-2000), and Kelly Ripa (2001-present). With the changing of co-hosts throughout the years the show has had several variations on its name; the program has been known as Live! with Regis and Kathie Lee (1988-2000), Live! with Regis (2000-2001), Live! with Regis and Kelly (2001-2011), and Live! with Kelly! (2011-2012).
Appearances
Live! with Regis and Kathie Lee
July 13, 1999 — Piggy appears to promote the release of Muppets from Space. She shares a long kiss with Regis which is later shown during the November 29, 2002 and May 19, 2005 broadcasts.
Live! with Regis and Kelly
December 24, 2001 — Kermit the Frog appears.
November 26, 2002 — Piggy is caught on camera sun-bathing with Kelly Ripa's husband, Mark Consuelos.
December 8, 2006 — Kermit the Frog promotes his book Before You Leap as well as the Muppets' holiday album A Red and Green Christmas with Kelly and guest host Anderson Cooper. A clip of this appearance was shown for their 10th anniversary when Cooper made a guest appearance.
Live! with Kelly
Mentions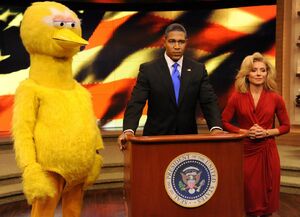 For their 2010 Halloween show, Regis and Kelly dressed up as Elmo and Katy Perry, a reference to the "Hot and Cold" segment. This was also shown during a montage of Halloween shows on their 10th anniversary.
In the upcoming Live! with Michael and Kelly 2012 Halloween special, a Big Bird costume will appear.
External links