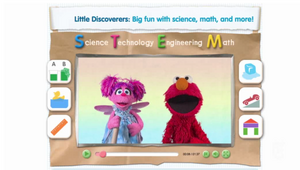 Little Discoverers: Big Fun With Science, Math and More is a section of Sesamestreet.org launched in September of 2013 that acts as a hub site for all of the show's STEM (Science Technology Engineering and Math) material. The section also features new video material (including videos featuring Elmo and Abby) and games, including a Grouch take on Angry Birds.
External links
Ad blocker interference detected!
Wikia is a free-to-use site that makes money from advertising. We have a modified experience for viewers using ad blockers

Wikia is not accessible if you've made further modifications. Remove the custom ad blocker rule(s) and the page will load as expected.