Little Children, Big Challenges (video)
Talk

0
Share
Ad blocker interference detected!
Wikia is a free-to-use site that makes money from advertising. We have a modified experience for viewers using ad blockers

Wikia is not accessible if you've made further modifications. Remove the custom ad blocker rule(s) and the page will load as expected.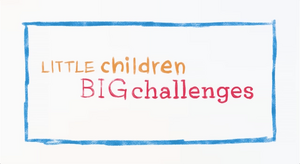 Little Children, Big Challenges is the third video in the Sesame Street resource video series of the same name, released in December 2013.
The 23-minute feature stars Elmo as he faces various challenges throughout his normal day, emulating similar ones real kids go through. The video also features new music videos and a new animated Twiddlebug segment.

| Picture | Segment | Description |
| --- | --- | --- |
| | SCENE 1 | It's drop-off time at Elmo's pre-school, but he doesn't want to leave his daddy. Together, they come up with some strategies to make saying goodbye fun. Louie also leaves him with a kiss, so he can have some of his dad throughout the day. |
| | Song | "Bye Bye for Now" |
| | SCENE 2 | Elmo's classmates Jane, Melissa and Tim run around the room playing superheros, while Elmo plays alone. His teacher, Ms. Betancourt, encourages him to play with them. Elmo tries, but they point out they only have the three costumes. Coming up with a new strategy, Elmo decides to play a monster they save from a lion. |
| | Animation | The Twiddlebugs go out for a lovely day, but Timmy and Tina argue over what they should do. When they see each of their activities (see-sawing and swinging) won't work with one Twiddlebug, they work together and take turns. |
| | SCENE 3 | While Cookie Monster feeds the birds, Elmo arrives outside with two Hooper's Store cookies. Cookie catches a whiff, but learns they're the last two. While Cookie wallows in despair, Elmo wonders if he should share. He ultimately does, but his cookie is knocked over and gobbled up by the birds. Cookie breaks his in half and shares with Elmo. |
| | Song | Cookie Monster sings "I Can Be Patient." |
| | SCENE 4 | At bedtime, Elmo struggles to button his pajamas and gives up. Louie shows him that, like many other things he can do, he just in't able to do it yet. He sings about the concept to Elmo ("Yet"), who's finally able to button them up. Louie sets Elmo into bed as he reads Elmo a story. |
Credits
External links