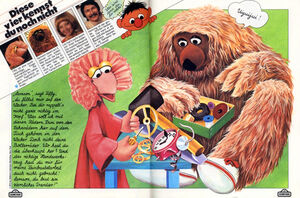 Liselotte "Lilo" Pulver (b. October 11, 1929) is a Swiss actress who played Lilo on Sesamstrasse from 1978 until 1983, making Lilo one of the first two human characters on the show.
Pulver began her career, after leaving trade school, as a model, and then studied acting. She made her film debut in 1949, in the American comedy Swiss Tour (starring Cornel Wilde). The buxom Pulver want on to become a frequent presence in German and French films, including The Confessions of Felix Krull and The Adventures of Arsene Lupin.
She also co-starred in two 1960s American comedies, Billy Wilder's frenetic satire One, Two, Three (as gum-chewing secretary Fräulein Ingeborg) and the Bob Hope comedy Global Affair (as Sonya, netting a Golden Globe nomination).
She remained prolific in European films, before and after Sesamstrasse, prior to her retirement in 1996. She has published several volumes of autobiography about her sometimes tragic private life.
External links
Ad blocker interference detected!
Wikia is a free-to-use site that makes money from advertising. We have a modified experience for viewers using ad blockers

Wikia is not accessible if you've made further modifications. Remove the custom ad blocker rule(s) and the page will load as expected.