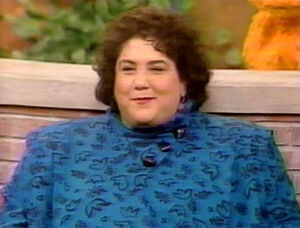 Lisa Simon (April 4, 1951 - April 4, 2015) was a longtime director and producer of various Sesame Street productions.
She won an Emmy Award for Outstanding Directing In A Children's Series in 2006, along fellow directors with Victor DiNapoli, Jim Martin, Ted May, Ken Diego, Emily Squires and Kevin Clash.
She also directed the non-Muppet series Between the Lions and Oobi.
Credits
External links
Ad blocker interference detected!
Wikia is a free-to-use site that makes money from advertising. We have a modified experience for viewers using ad blockers

Wikia is not accessible if you've made further modifications. Remove the custom ad blocker rule(s) and the page will load as expected.