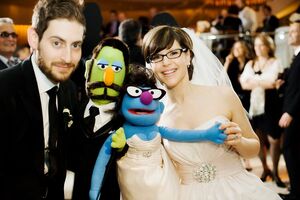 Lisa Loeb (b. 1968) is a singer and songwriter who has released over half a dozen studio albums since 1992. She wrote and performed the #1 hit song "Stay (I Missed You)" in 1994, with her band Nine Stories.
Loeb wrote the theme song for Shalom Sesame in 2010, and performs the lead vocals and acoustic guitar. Janice briefly covered Loeb's "Stay (I Missed You)" in The Muppets episode, "Pig Out."
In addition to her recording career, Loeb has made appearances on various television outlets, including Jack's Big Music Show, The Sarah Silverman Program and provided the voice of Mary Jane on the 2003 Spider-Man cartoon.
Ad blocker interference detected!
Wikia is a free-to-use site that makes money from advertising. We have a modified experience for viewers using ad blockers

Wikia is not accessible if you've made further modifications. Remove the custom ad blocker rule(s) and the page will load as expected.